Good day people, i have decided to make a tutorial on how to possibly get more FPS in game. This is because i've got a lot of questions regarding FPS lately, hopes this works out for you!

1. This is probably the fastest and maybe most efficient way to increase your FPS. Just start up GTA and Hit ESC. Then go to Options > Display > Advanced. You will end up here:
- Draw distance.
This is the options that specifies your view distance, if you bar is full, it means that you can look further, try to lower the bar, this might increase your FPS a little.
- Frame Limiter.
I dont know much about this feature and when it limits your frames, but turning this Off will probably help you.
- Visual FX Quality.
This is the option that would probably benefit you the most, try to pit this on Low and see the results yourself.
- Anti Aliasing.
Turning this Off can help you. Anti aliasing allows GTA to make the objects 'smoother' for better graphics.
2. Windows performance settings
This setting is a global setting within Windows. It allows you to disable all kind of graphical heavy features and can result in a better amount of FPS.
Notice: This tutorial was based on Windows 7, Windows XP users might be seeing something else here.
Go to control panel > System and Security > System, or just simply right click 'Computer' and select Properties.
In the left table, chose 'Advanced system settings'. Select 'Performance' > Settings next.
Now check the box that says 'Adjust for best performance' as seen on the picture and apply the changes.
3. msconfig
Note: Do not disable stuff if you are not sure of it!
Msconfig is a global Windows tool that lets you edit programs that start when your PC starts. If you hate tons of programs that start when your computer starts, it can maybe cause lag in games because of the processor load.
Open up msconfig by typing it in 'Start' or open up run.exe first and then type in msconfig. Goto the startup tab and try to disable everything that you dont use or need.
4. Nvidia control panel
Note: This applies only for people with an NVIDIA graphics card!
If you have an Nvidia video card, this options can also help out.
Open up NVIDIA control panel by right-clicking your desktop like this: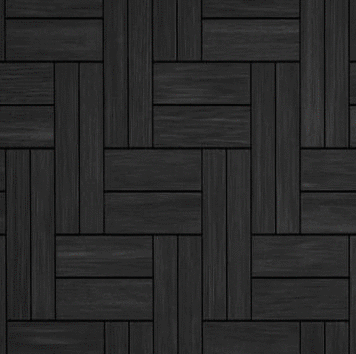 Most of you would end up here: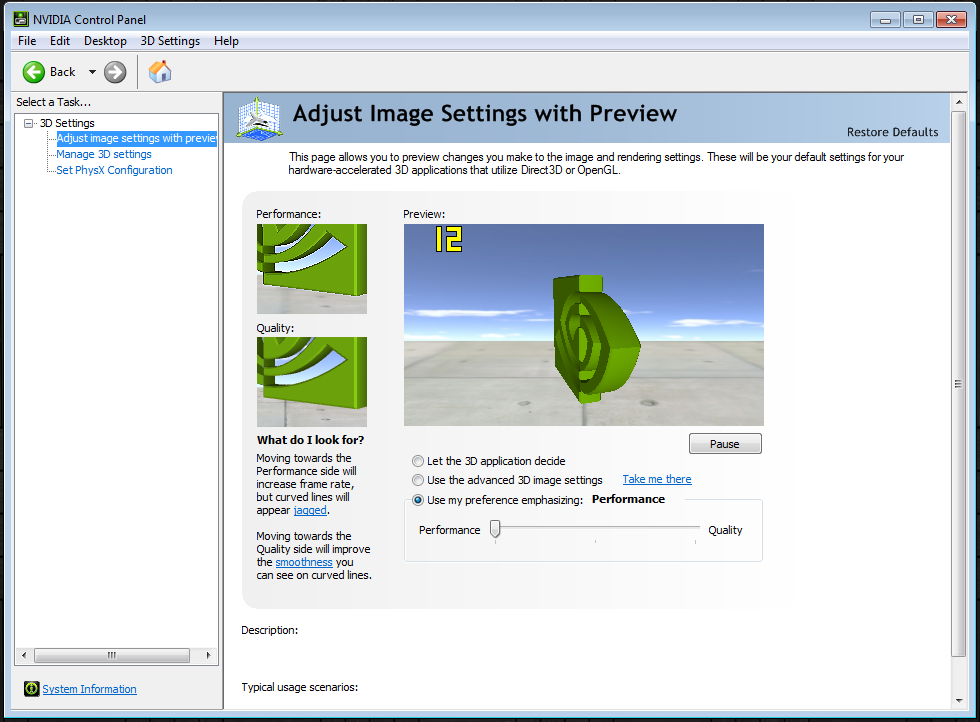 Now check the box that says: Use my preference emphasizing. Drag the bar to 'Performance' instead of 'Quality'.
4.1
Go to 'Manage 3D settings'. This can also be found in the NVIDIA control panel.
Now do the same as me: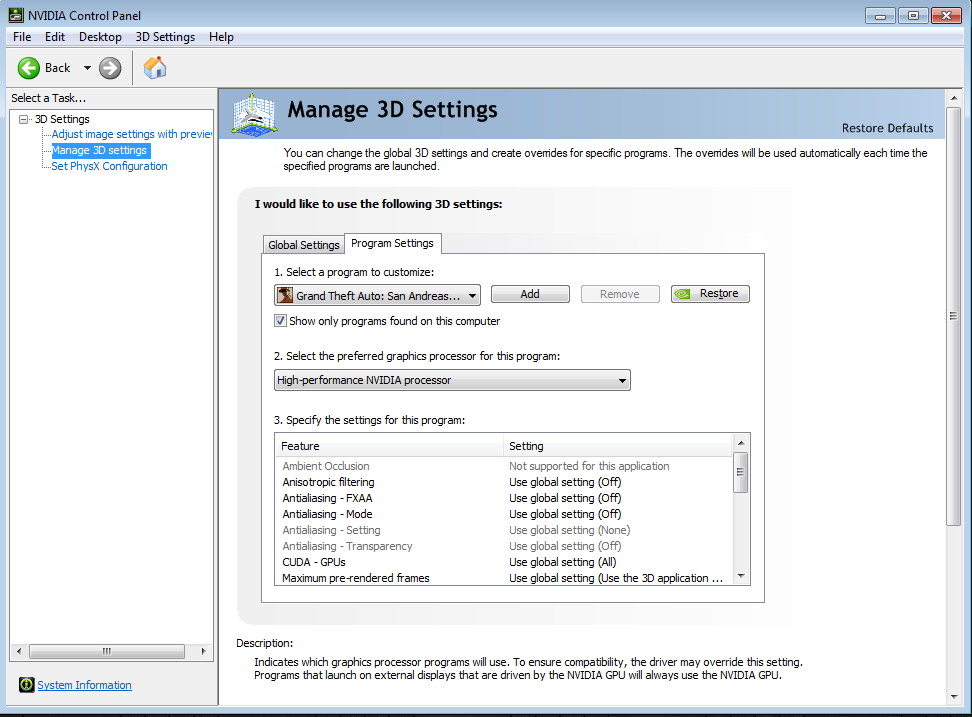 Dont forget to save the changes after this!
4.2
I just found this and it might help out some of you. NVIDIA installs a service that often uses a lot of CPU power. This service isn't necessary if you dont have an NVIDIA Shield tablet.
Open 'services.msc', example below:
Now locate 'NVIDIA Streamer Service'. Right click it and select 'Properties'.
Change the Startup Type to 'Disabled' like this:
Either stop the service manually by right clicking it again or restart your computer.

5. Last but not least, always keep your PC up to date, your Graphic card (mostly) also updates via Windows update, so this is pretty important.
I hope this helped you out, if you found any troubles using any of my advice, then please let me know. Also if you know more ways to increase FPS, then i will add them.